About The Races
Sunshine Insurance Race Weekend is in its twelfth running of the marathon, half marathon, and four-person relay January 14, 2024.
For 2024, THE PINK RUN 5k, Bahamas race will be held, on Sunday, in conjunction with the marathon events making for a truly incredible 'series of events': marathon, half, relay, 5k ALL finishing at Western Esplanade/Arawak Cay area.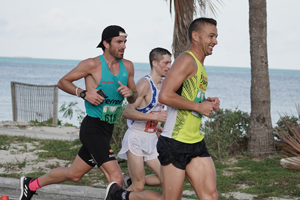 Held on the idyllic island of the capital of The Bahamas, Nassau, which is immersed in history, natural charm, beauty, white-sand beaches, aquamarine waters and hospitable and welcoming residents, Marathon Bahamas has become the pre-eminent endurance event of the country.
The event features runners from 19 countries and 31 states and is supported by a large volunteer contingent from every walk of Bahamian life.
Sunshine Insurance, in its role as the lead sponsor and organizer for Marathon Bahamas, is committed to foster strategic relationships with organizations for the advancement of breast cancer awareness, research and treatment. Relationships  that could significantly impact the health of Bahamians, especially in the areas of breast cancer and other women's health issues.
THE PINK RUN 5k, Bahamas is an annual event not only to raise money for the beneficiaries but also to bring attention to the dreaded disease, of breast cancer, that affect so many of our Bahamian women. 100 percent of the money raised by THE PINK RUN 5k, Bahamas will remain in The Bahamas to fund breast cancer and women's health programs.
Beneficiaries for the events are: The Cancer Society of The Bahamas, The Princess Margaret Hospital Foundation, Sister Sister Breast Cancer Support Group and the Cancer Society of The Bahamas Grand Bahama Chapter. Marathon Bahamas has exceeded $400,000 in cash contributions to the beneficiaries.