Cancer Society of The Bahamas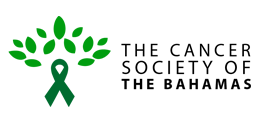 The Cancer Society of The Bahamas was established in 1976 as a non-profit organization, to educate the public about the various types of cancers and related treatments, as well as the prevention of cancer. Additionally, the Association raises funds on an annual basis to support its Cancer Caring Centre and to assist with costs associated with the educational, screening and medical related programmes.
The Cancer Caring Centre acts as a "home away from home" for persons needing treatment, particularly residents from the Family Islands. The Cancer Society of the Bahamas continues to stay committed to its mission that "Cancer Awareness, Education, Prevention, Research, Advocacy, Care and Cure of cancer is purposed to serve cancer patients, survivors and their families and persons at risk across The Bahamas".
The Cancer Society has nine Family Island branches on Abaco, Central Andros, South Andros, North Andros, Cat Island, San Salvador, Eleuthera, Exuma, and Freeport Grand Bahama. For more information please visit their website at www.cancersocietybahamas.org or contact their office at (242)323-4441 or (242)323-4482.