Half Marathon
The Half Marathon has quickly risen in popularity over the past few years. The flat course is ideal for all types of runners. Many participants have achieved their PRs at this event. For those beginning a new way of life in Health & Fitness, this is the perfect picturesque course for you to enjoy your run. This event is Walker Friendly. If you're from out of town and searching for that Ideal Family Winter Destination running event, Marathon Bahamas' Half Marathon is for you!
DATE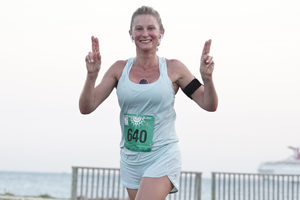 Sunday, January 14
TIME
6:00 am (EST)
Simultaneous start with the marathon
ENTRY FEES:
$ 70 May 1 – 31
$80 June 1 to August 31
$90 September 1 to November 30
$100 December 1 to January 12
$125 January 13 at expo (if available)
START LOCATION
Oceanfront at Western Esplanade
FINISH LOCATION
Oceanfront at Western Esplanade
COURSE DESCRIPTION
The race course was designed to showcase many of the focal points of this amazing destination including quaint and scenic downtown Nassau with its historic buildings and dramatically upgraded Cruise Port, the glitz and glamour of Paradise Island, the business districts, exciting Cable Beach and the life of the residents hugging the northern shore of the Island.
The marathon starts at Western Esplanade heading east through downtown Nassau via Woodes Rodgers Wharf and existing on east Street to Bay Street. Route continues east to Montagu Beach (exit) making a turnaround at Montague Beach (entrance). The course loops west returning to downtown passing the starting line area, hugging the northern shores and returning in the Cable Beach area. The dramatic finish is via the eastern entrance of Western Esplanade – oceanfront!
Download the Half Marathon Registration Form
Download the Half Marathon Course Map
PARKING
There is ample complimentary parking available in the Ft. Charlotte area (opposite the start/finish line) and on the side streets in the area. Marathon Bahamas strongly recommend that you arrive no later than 5:00 am to find parking as there may be some congestion in the area.
TRAFFIC ADVISORY
On Marathon Day, Sunday, January 14, special traffic controls will be in place from Western Esplanade to Montagu Beach thru West Bay Street from 5:00 am – 12:30 pm. Bay Street will be opened on a gradual basis.
WEATHER
The average weather in January is absolutely stunning with lows in the 60s (mornings) rising to the mid-70s (afternoon). The humidity averages out to 64%, with the sunrise at 6:53 am Eastern Standard Time.
AID STATIONS
Water and Gatorade will be available approximately every mile along the course starting at mile two.
Energy gel will be offered at mile 10.
Marathon Bahamas's Official Medical Team, Doctor's Hospital, will be at the main medical tent positioned at the finish line. Medical stations will also be positioned along the race course should you need assistance during the race.
Authorized cyclists will be on the course monitoring participants who may require medical attention. Should attention be required, the cyclists will notify the medical team.
COURSE HOURS
The Half Marathon is a competitive road racing event. Runners and walkers are encouraged to participate.
There will be a 6-hour time limit on the course for the event; however, all participants must complete the first 6 miles within a 1.5 hour period. After the 12:00 pm cut-off period, if you are on the course, you will be asked to move to the pavement should you desire to complete the event. This rule will be strictly enforced.
Every participant must be in adequate health and sufficiently trained to partake in this race. Consult your physician before beginning any endurance-training regimen.
GEAR CHECK
Need a place to put your dry clothes or car keys? Simply drop your items in the race bag you receive at Packet Pick Up (or your own personal bag) and drop your bag at the complimentary Gear Check area near the start line.
We recommend that you DO NOT check your wallets or any other valuables into a Gear Check bag.
*Make sure to fill out and attach your Gear Check stub located on your race bib.
Gear Check will close at 1:30 pm. All unclaimed gear will be donated to a local charity.
POST RACE
Once you cross the finish line you will receive cold bottled water, your finisher's medal, go through the Runner's Food Line for a variety of food selections and pick up your personal belongings from Baggage Drop-Off prior to enjoying the morning at the beach.
The Medical Tent is conveniently located at the end of the finish line.
Western Esplanade/Arawak Cay offers a great venue for all participants to reunite with family and friends, enjoy food, music, vendor displays and cheer other Marathon participants.