Speakers Corner
MARATHON BAHAMAS PACKET PICKUP PRESENTERS!
3:15pm, 4:30pm, 6:00pm – MATT SCOLETTI
YOUR WHY!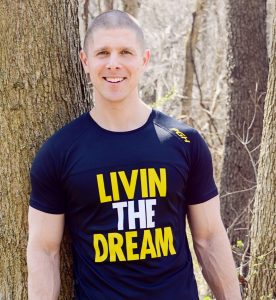 Matt knows what it's like to be unhealthy, unmotivated, and unsure of his purpose. In 2011, he decided to make a change. Matt decided on that day as he looked at his pathetic reflection in the mirror that he was never going to feel that way again. And he hasn't looked back.
​Since that day, Matt has become a 2-time World Record holder, 5-Time Physique Bodybuilding champion, featured in Flex Magazine, 40 Under 40 Recipient, American Ninja Warrior competitor, Ultramarathoner, 6-Time Tough Mudder finisher, Distinguished Toastmaster Award Recipient, Navy Seals 20x "Hellweek survivor," and a contestant on America's Funniest Home Videos for smacking himself in the face with a resistance band. Yes, the video is still floating around out there on social media.
​No person on the planet has attempted and succeeded in such a diverse amount of fitness events especially after being a functional alcoholic for almost a decade only months prior to Matt hoisting his trophy as Mr. Pittsburgh.
​Matt continues to push himself to the max in different endeavors but now gets the most joy out of teaching others the strategies and ideas that helped make him the high energy, sober, healthy, and insanely positive passionate man he is today!
Matt Scoletti is an entrepreneur, author of his first book "The First 15", professional speaker, philanthropist, and is driven to improve the lives of everyone with whom he comes in contact.
Matt has been called an "energetic force for good" while on stages across the world!
He hopes to give a highly inspiring talk that will help all runners keep an UNSTOPPABLE MINDSET during their marathon run in The Bahamas!
Matt is so excited to be a part of the marathon this year because he is inspired by the resilience of this amazing island especially after some difficult events. He and his wife Stephanie also are volunteering to help with some cleanup while they are on the island.
Matt also has a mini surprise during his speech so don't miss it!!
3:45pm, 5:15pm, 6:30pm – Dr. Leonardo Oliveira
COMMON RUNNING INJURIES AND HOW TO AVOID THEM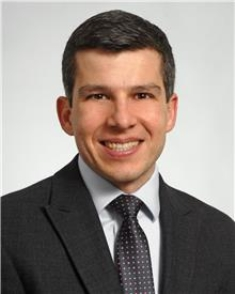 Dr. Oliveira is a sports medicine physician in the Levitetz Department of Orthopaedic Surgery at Cleveland Clinic Florida.
He is a fellow of the American College of Physicians and American College of Sports Medicine. Dr. Oliveira practices sports medicine and see patients with a multitude of sports injuries and painful joint and muscle conditions. He seeks to keep his patients active and works with them to find a solution to maintain each one them, regardless of age, on their physical activity/sport of choice.
Having completed three marathons and with a clinical and research interest in running medicine, Dr. Oliveira leads the running initiatives at Cleveland Clinic Florida. He seeks to combine his medical knowledge and personal experience to help runners and tri-athletes perform at high level while preventing injuries.
Dr. Oliveira runs to maintain his health and likes the challenge of running races. "Adding a race goal to your calendar helps us commit to overall health goals. The benefits of running can be felt in the body and the mind."
4:15pm, 5:45pm – Marie Bartoletti
A STROKE VICTIM, FEATURED ON A WHEATIE'S BOX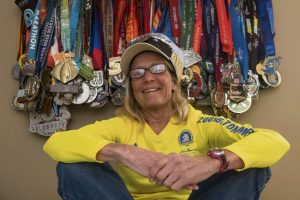 In 2001, a USA-nationwide search for an "everyday champion" landed Marie Bartoletti on the front of a Wheaties box. An inspiration to those around her, she was nominated by one of her 5th-grade students.
Some people's life goals might start and end with appearing on a Wheaties box, but not Bartoletti's. Three years after appearing on the box, she achieved her goal of participating in a marathon in all 50 states.
Marie Bartoletti was in outstanding shape at 57. She had run 315 marathons and 25 ultra marathons. She qualified for Boston then decided it would be fun to run the course in reverse before turning around and running the official marathon with the rest of the field.
Her personal record was 3 hours, 40 minutes. When desiring to slow down, she would run as an official marathon pacer which she loved because it allowed her to help first-time marathoners reach the finish line. She has paced every Pittsburgh Marathon since it returned from a five-year hiatus in 2008.
In 2015, when visiting family in Michigan for the Thanksgiving period, her right side drooped and her mouth curled down on one side! When she awoke the next day, she was in a hospital bed, and she couldn't even say her name. Marie had a hole in her heart through which a blood clot had passed and traveled to her brain. Her stroke score was a 25 on the National Institutes of Health stroke Scale. Anything above 21 is 'severe'.
Marie wanted to run! Running is how she clears her mind. Running is where she finds shelter.
She stayed in Michigan, for weeks, with speech therapy and struggling to relearn the seemingly simple act of forming words. It was difficult but she stuck with it. Because she understood that, as with running marathons, recovering from a stroke is no sprint. It is slow. Plodding, Painful.
John, Marie's companion, realized that Marie had to run to have a mental balance to her making physical strides. The doctors were hesitant. Marie laced up and, six miles later, she was smiling for the first time in a long time.
Returning home to Pittsburgh, Marie ran every opportunity she could but she also battled depression as she longed to return to her physical education teaching role at West Jefferson Hills School District where she founded Kids of Steel running group and coached tennis.
Since her stroke, this woman has run 175 marathons; whose speech remains halting but steadily is returning; and who will run Marathon Bahamas January 19 as her 481 marathon!
Marie has just had her book PERSERVERANCE published. She will be at the Marathon Bahamas packet pickup for conversation and to promote her book.
She sure knows how to get to a finish line!
5:00pm – Dr. Danny Johnson 
FOOT CARE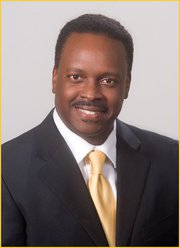 Dr. Johnson is a Consultant Podiatrist, at the Ministry of Health, Nassau and the Rand Hospital in Freeport. He was also the National Director for the Healthy Lifestyles Secretariat.
Since completing his graduate and postgraduate studies in Podiatric medicine, he has established the Foot and Ankle Institute of which he is the Clinical Director and Proprietor.
He served as Medical Director of WeCAre and the Walk-In Medical Clinics in The Bahamas.
Dr. Johnson has been an advocate of medical innovation and affordable healthcare for all Bahamians. He is also CEO of Fort Charlotte SurgiCentre and has clinical associations in New York, Atlanta and Miami.
The Foot and Ankle Institute provides the most up-to-date diagnostic and treatment techniques available in all areas of podiatric care.