Nate Larson running his 95th Marathon in The Bahamas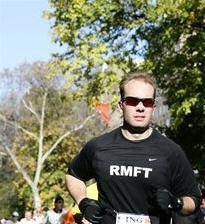 Nate Larson running his 95th Marathon in The Bahamas
#95 AT MARATHON BAHAMAS
Running a marathon is no small accomplishment and not for the faint of heart, legs or mind. Having a goal focused on completing 100 marathons before 'slowing down' is for the strong of heart, legs and mind! On Sunday, January 15, 2017, Nate Larson will be competing in Marathon Bahamas as his 95th marathon in his quest to 100! To commemorate this accomplishment, Nate will be wearing marathon bib #95.
Nate has competed and completed five of the six world marathon majors, a marathon in all 50 states and marathons in eight countries including Canada, Faroe Islands, Germany, Greece, Iceland, Japan, Thailand, United States and soon, The Bahamas!
With his move to Manhattan, NY from Atlanta, Nate who was an avid golfer, changed his golf cleats for running shoes. Running allowed Nate to have some 'me' time and focus on himself. For many years, Nate's career included extensive travel and somehow, a marathon was included in these travels, conveniently.
In addition to enjoying 'me' time, Nate runs for the health benefits as well as the social interaction and camaraderie with other runners.
New to the marathon distance? Nate's advice is not to be overwhelmed with the distance. Break up the marathon into three stages: take it easy to the half, push harder to the 20-mile point and finally cruise the last 10k.
Nate is a member of the 50 States Marathon Club, Marathon Maniacs and Marathon Globetrotters. One can add: an accomplished marathoner!
Marathon Bahamas is sponsored by Sunshine Insurance, the Ministry of Tourism, Atlantis, Focol, BTC, Arawak Homes, Cancer Treatment Centers of America, Cleveland Clinic, Dasani (CBC Bahamas), NAD, Royal Star Assurance, Scotiabank and Subway among many others.
To register for Marathon Bahamas, visit www.marathonbahamas.com.