Marathon Bahamas named one of the 50 Best Events outside of the UK – Runner's World UK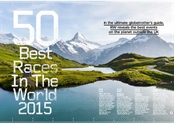 Marathon Bahamas has been named one of the best races in the world.
The marathon, which is in its seventh year, took a spot in what Runner's World UK calls the "50 Best Races In The World."
In the "ultimate globetrotter's guide," the magazine reveals the best events on the planet outside of the United Kingdom.
Marathon Bahamas was listed among the Paris Marathon, the Moscow Marathon, Niagara Falls Marathon and Melbourne Half Marathon.
"This is, as you might imagine, a pretty laid back experience. Starting at 6am, you'll get in some decent mileage before the heat gets too oppressive, and as you make your way along the fast, flat course, you'll enjoy miles of ocean views and gleaming white sands," notes the article.
Sunshine Insurance Race Weekend (SIRW) PR Chair, Rogan Smith said the article is further proof that the marathon is having an impact internationally.
"Runner's World UK is a big deal, it's really a 'Bible' for many runners, so to be included is indeed an honour. We had no idea they were profiling us, so this was definitely a surprise, especially seeing that we're on the cover. Our entire team is so very excited. This honour lets us know that we are on the right track. Our inclusion on the list speaks volumes to what we're doing," said Smith.
"We're grateful to our organizing committee members, volunteers, board members, sponsors and of course all of the incredible participants who come together to make this event amazing. It's a great inducement to make our 2016 event even better and I can't wait."
To register for Marathon Bahamas, visit www.marathonbahamas.com.
The event will be held January 17, 2016.