Komen Bahamas Donates $100,000 To Four Cancer Charities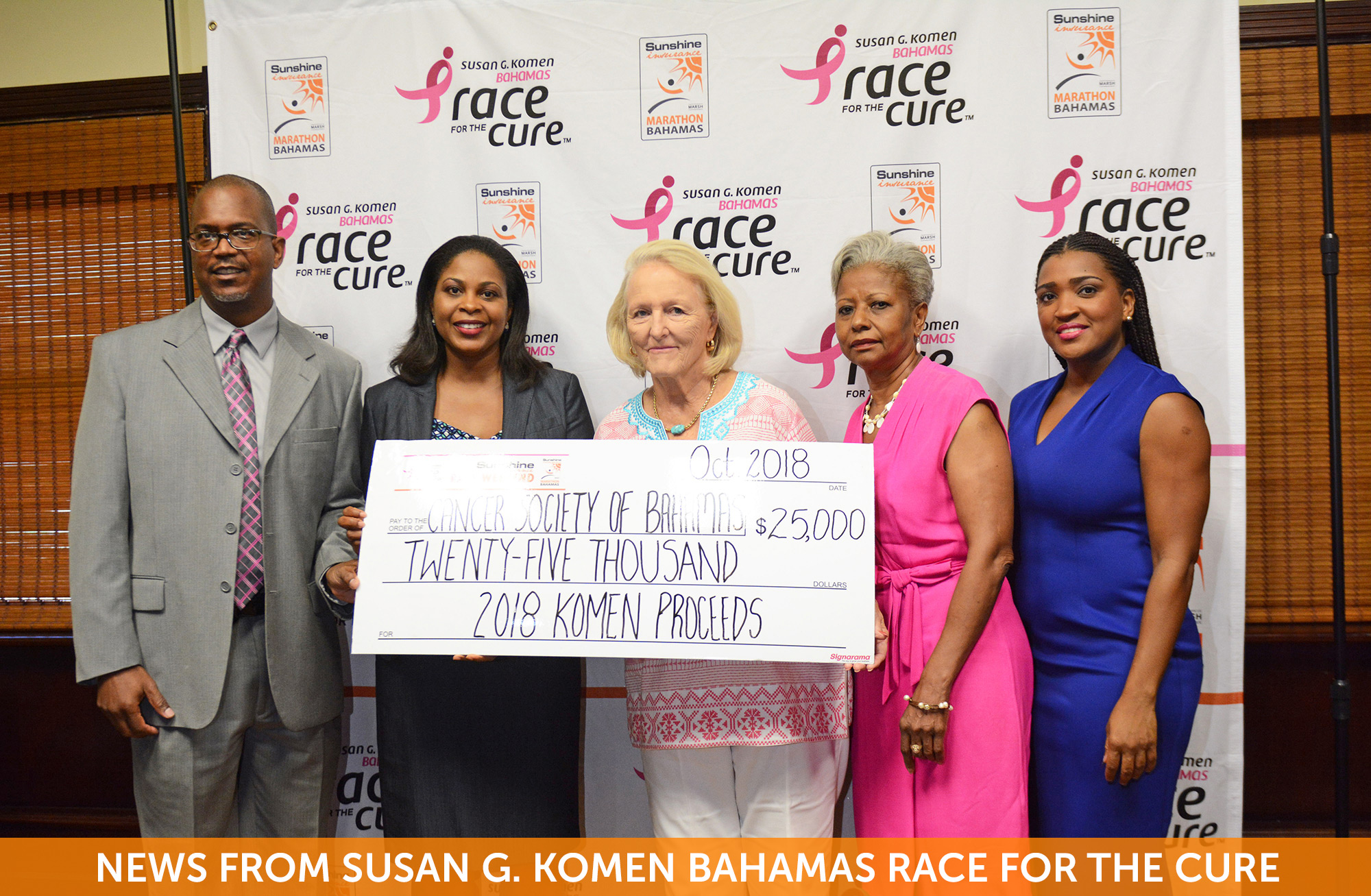 NGOs Make Serious Call For National Cancer Registry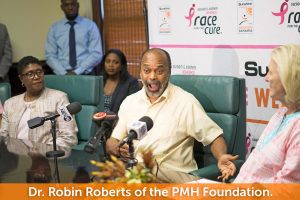 Nassau, Bahamas (October 2, 2018) – For the first time in its history, Sunshine Insurance Race Weekend (SIRW) has doubled its annual donation, giving away $100,000 to four cancer charities.
During the official launch of the Susan G. Komen Bahamas Race for the Cure® 5K event on Monday, Sunshine Insurance, which is the lead organizer and sponsor for the event and Marathon Bahamas, donated $25,000 each to the Cancer Society of The Bahamas, the Cancer Society of Grand Bahama, the Princess Margaret Hospital Foundation and Sister Sister Breast Cancer Support Group.
The donation comes at the start of Breast Cancer Awareness month.
"For the past five years, our efforts have allowed us to donate $50,000 to our beneficiaries. It gives me a great sense of pride to announce that this year, for the first time in the Sunshine Insurance Race Weekend's history, we have doubled that allocation and are today donating a total of $100,000 to the charities," said Sunshine Insurance VP of Development, Shelly Wilson.
"I would be remiss if I did not thank our many incredible sponsors, some of which include Bahamas Ministry of Tourism, Atlantis, Focol and Aliv for their generous donations. None of this would be possible without them. I would also like to thank all of you – our participants who register, volunteer and donate your money and time to our cause."
Mrs. Wilson noted that as her company's race has grown, so has the public's appreciation for what it does.
"Despite the many years that have passed, we have not lost sight of why we do this, and that is to raise awareness about a disease that has claimed the lives of too many of our mothers, daughters, sisters, friends, and even fathers," she said.
"Fighting breast cancer is not a job for one person or even one organization. It literally takes a village to make an impact. The Susan G. Komen Bahamas Race for the Cure is much more than a race. It's a movement. It's also our primary fundraising event, and the money we raise is donated to local cancer organizations for their various outreach programs."
Mrs. Wilson urged Bahamian women to get regularly screened for the disease by having mammograms and maintaining healthy lifestyles.
Susan G. Komen Bahamas Honorary Chairperson, Willie Moss, who is a 25-year breast cancer survivor, thanked Sunshine Insurance for continuing to bring awareness to the disease, particularly to those who might not think of getting themselves checked. She also echoed Mrs. Wilson's sentiments.
"Your body talks to you. It tells you when you're not well. Awareness is what we want to focus on. Without Sunshine Insurance, we would not have touched so many lives," she said. "I want everyone to come out [in January]. It's a wonderful experience. [Cancer] is not a death sentence. Not all of us make it out, but if we get the word out, we can save more lives," she said.
During her speech, Mrs. Moss reminded the government that it promised to deliver on a national cancer registry, but that promise, to date, has still not been fulfilled.
Cancer Society of The Bahamas founder, Susan Roberts said she is grateful for the "incredible" donation, noting that the Cancer Society represents individuals with all types of cancer in people young and old. She agreed with Mrs. Moss that the time has come for a national registry.
"We started over 42 years ago. It's now 42 years later. It's rather embarrassing. This is a serious call. The Ministry of Health has serious problems and this is an essential thing that should happen," she said.
President of the Cancer Society of Grand Bahama, Lorine Miller said cancer seems to be "at an all-time high" in Grand Bahama and her organization is doing all it can to help residents on the island.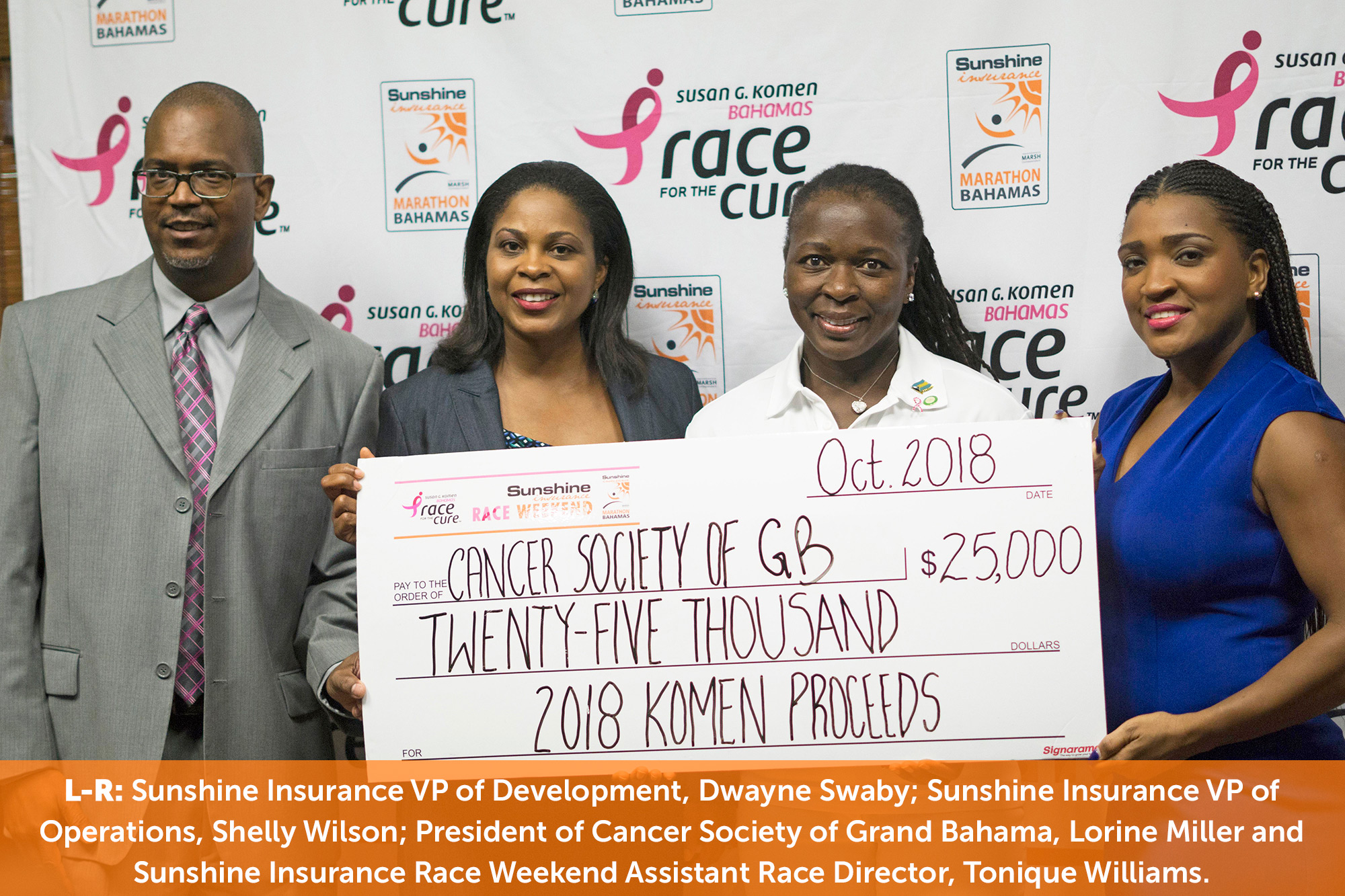 "This is our second time around as a beneficiary. We'd like to thank Sunshine Insurance for coming to the aid of cancer patients and their families," she said.
Sister Sister President, Andrea Sweeting, who is also a 17-year breast cancer survivor, thanked Sunshine Insurance for its commitment.
"Early detection saves lives. Screenings save lives. This is the education that we need to keep spreading. We cannot do this alone. This involves every person and I will continue as long as I'm able," she said.
Dr. Robin Roberts, who is a member of the Princess Margaret Hospital (PMH) Foundation said Sunshine Insurance's donation is helpful because medicine is expensive and the hospital never has enough money.
"We serve as a link between the donors and the hospital. Through their efforts, we have a state-of-the-art digital mammogram machine. Just recently, we looked at having our own genetic counsellors. We are about to reestablish the Bahamas Breast Cancer Initiative Foundation. We have three nurses identified who are doing courses in genetic counselling. We wouldn't have been able to do that without Sunshine Insurance. We're ecstatic and looking for more contributions," he said.
Dr. Roberts also weighed in on the registry, noted that PMH has a cancer registry, but medical practitioners want one that is national so that they know what's happening in Grand Bahama, Abaco and Bimini.
"We miss a lot. That's what drives the services we need. Then, we can tailor programs for prevention and treatment," he said. "We have passed the legislation. This year coming up, we should be launching it."
Komen Bahamas is scheduled for Saturday, January 19, 2019. The organization is offering a $5 discount on its registration fees until October 5th with the promo code: KOMENBAHAMAS.
To register, visit www.komenbahamas.org.