Husband And Wife Duo To Defend Marathon Bahamas Crown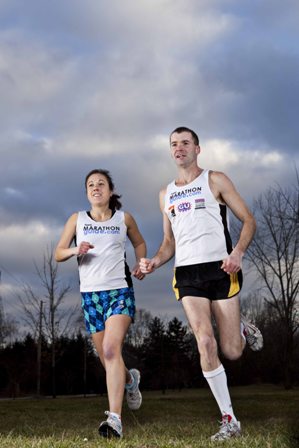 For nearly a year, Justin and Melissa Gillette have had their eyes on the finish line – literally.
The husband and wife duo, who won the 2014 Marathon Bahamas event, took their big win to the next level and placed the finish line on their kitchen wall.
Now, the Indiana couple is preparing to defend their title in the new year.
The couple will return to The Bahamas for the 6th Annual Sunshine Insurance Race Weekend, which takes place January 17-18, 2015.
"Since getting married, we have won the same marathon 10 times. Hopefully, we can do it again at the Bahamas Marathon," said Justin, an elite athlete, who runs marathons for a living.
In fact, he has taken part in 151 marathons, won 79 and currently clocks 120-135 miles per week.
Melissa, meantime, has won 18 marathons and is a two-time College All-American champion.
"We really enjoyed the 2014 race and hope to have an even more exciting 2015 race," said Melissa, who recently finished up her PhD at the University of Notre Dame studying Biological Science with a focus in Molecular and Cellular Biology. She completed her research on breast cancer and is currently working at a local hospital as part of a genetics program.
She said since winning the Marathon Bahamas crown, her husband has been "constantly singing the official Marathon Bahamas song."
"Sure I get funny looks when singing that song in local grocery stores, but it's good motivation to be ready for Marathon Bahamas 2015," said Justin.
Marathon Bahamas organizers expect 1,200 participants in the upcoming marathon.
The proceeds from the event will benefit five charities: the Princess Margaret Hospital Foundation, the Cancer Society of The Bahamas, the Cancer Association of Grand Bahama, the Bahamas Breast Cancer Initiative Foundation (BBCIF) and the Sister Sister Breast Cancer Support Group.
For more information or to register for the marathon, visit www.marathonbahamas.com. To register for the Susan G. Komen Bahamas Race for the Cure®, visit www.komenbahamas.org.