High School Students Go The Distance In Cancer Fight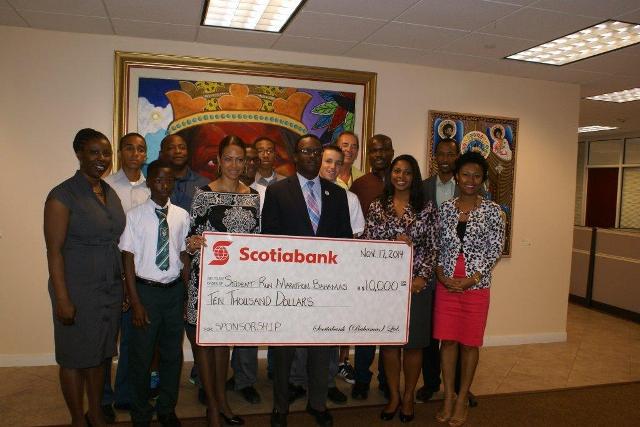 NASSAU, Bahamas – Top student athletes are about to go the extra mile to fight cancer . . . make that 26 miles.
In two months, the student runners will take part in Marathon Bahamas' relay, which takes place on January 18, 2015.
It's all part of the 6th annual Sunshine Insurance Race Weekend (SIRW).
The two-day event, which also includes the Susan G. Komen Bahamas Race for the Cure event, is a community effort that brings awareness to the cancer fight and raises money for the cause.
Each team of four members will collectively run the 26.2 mile marathon. Students from several schools, including St. Anne's, Queen's College and CH Reeves Junior High School will participate.
Vice President of Sunshine Insurance and Marathon Bahamas Director, Shelly Wilson said her organization is pleased to involve young persons in the race.
"Marathon Bahamas has its primary focus of raising awareness for all health related issues, particularly cancer, which is truly an epidemic that affects all Bahamian families," she said on Monday during a cheque presentation event at the Ministry of Youth, Sports & Culture.
"We are pleased . . . to have students, such as the young men represented here today, really commit themselves to this race. You are making such an impact on the lives of Bahamian families and I say that because so often we think of it as Bahamian women, but anything that you do that affects a Bahamian woman affects a Bahamian family."
This will be the fifth year that Scotiabank has partnered with Marathon Bahamas and the fourth year that it has been the title sponsors of the Scotiabank Student Run Marathon Bahamas event.
"So, this is an exciting part of our Bright Future Program, which gives back to young people in real ways in the community," said Scotiabank Senior Manager of Marketing and Public Relations, Leah Davis. "It's always a pleasure to be around young people. This event – and I have to say, it's one of the most inspiring – because you see people of all ages, shapes and sizes just running and they are committed to the goal of finishing, but also to a great cause."
"So, for us, this event represents three opportunities to give back and that is in terms of the promotion of sports tourism, because Marathon Bahamas is a significant contributor in that way, and in the fight against cancer and in supporting young people through our Bright Future Program. So I want to thank Marathon Bahamas for the opportunity to partner for this event and I want to congratulate all of the schools that have participated in the past and wish all of those who will be running in January the very best of luck."
Trevor Strachan, who is in charge of the student relay portion and is assisting with coordination, said he is hoping to welcome 24 student relay teams and is hoping to have at least two Family Island teams come on board.
Sports Director in the Ministry of Sports, Timothy Munnings said the ministry recognizes the potential and the impact that Marathon Bahamas and the Susan G. Komen Bahamas Race for the Cure have not only on the country as a whole in terms of attracting sports tourism to The Bahamas, but in also raising awareness.
"It is no secret that we are affected across the nation in terms of cancer. These events bring an awareness to this plight which is upon us and hopefully it will raise money for research in terms of finding a cure.
"We recognize the importance of the event. This is our third consecutive year as a partner and this year we are going to be sponsoring teams. This year we want to encourage more persons to participate. So, we will sponsor teams to participate in the event particularly at the Youth, Sports and Culture ministry and other agencies."
Youth, Sports & Culture Minister, Dr. Danny Johnson said Marathon Bahamas "can now be looked at as a staple on our sports tourism calendar."
"Next year we have an enormous sports tourism calendar. We probably have about 10 major events coming to The Bahamas and Marathon Bahamas is always the first one," Minister Johnson said.
"So, it gives us great pleasure to partner with what you're doing, in combination with Scotiabank and what they're doing in sponsoring young people. It's great to see these young men here today. I'd like to see some young women running too. We want to make sure that awareness is raised in that group. Being a medic and a sports person, this is one of the best ways to get the message out about health and wellness and the diseases that affect us most are the chronic non communicable diseases. These are lifestyle diseases. Although you might have a gene for it, it is triggered by your lifestyle. So, this is the perfect entry point to get the message out to young boys and girls that health and wellness must be atop your agenda."
Phillip Joseph, an eighth grader at CH Reeves Junior High School who participated in the 2014 marathon, said his experience was "excellent and exhausting."
"It was great. I'm looking forward to catching these guys," he said referring to his competitors.
Roy McCarroll, a twelfth grader at Queen's College, said his experience was "tremendous."
"We had a good team. We came out in third place behind CH Reeves and St. Anne's. This year we lost one of our crucial runners, but we've managed to find some other guys and we're looking forward to doing a little better this year and representing Queen's College."
Dominic Lightbourne, a twelfth grader at St. Anne's noted that St. Anne's placed second in 2014.
"The experience was great. Our team, it probably isn't as good as last year, but we hope to come first. We came second last year and overall the scenery and the whole run allows us to show our talent," he said.
Sunshine Insurance Race Weekend takes place on January 17-18, 2015.
Proceeds benefit the Cancer Society of The Bahamas, the Cancer Association of Grand Bahama, the Princess Margaret Hospital Foundation, the Bahamas Breast Cancer Initiative Foundation and Sister Sister Breast Cancer Support Group.
To register for the Susan G. Komen Bahamas Race for the Cure, visit www.komenbahamas.org.
To register for Marathon Bahamas, visit www.marathonbahamas.com.
To sponsor Marathon Bahamas, contact Chakita Archer at carcher@marathonbahamas.com.
Caption L-R in front row: Scotiabank Senior Manager of Marketing and Public Relations, Leah Davis; Youth, Sports & Culture Minister, Dr. Danny Johnson; Marathon Bahamas Director and Sunshine Insurance Vice President, Shelly Wilson and Sunshine Insurance Marketing Coordinator, Rogan Smith pose following Scotiabank's cheque presentation to Student Run Marathon Bahamas on Monday. (Photo/ Chakita Archer)