Former Senator Donates To Marathon Bahamas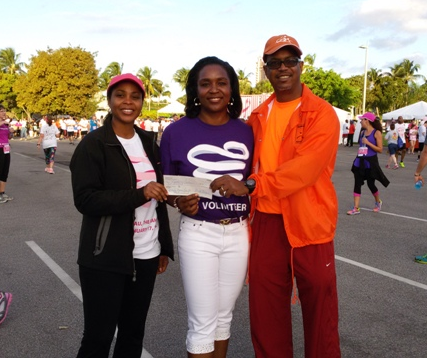 A former Progressive Liberal Party (PLP) senator has joined in the fight against cancer. During the 5th Annual Susan G. Komen Bahamas Race for the Cure® event this past Saturday, Cheryl Bazard donated $500 to Marathon Bahamas.
Sunshine Insurance VP of Operations, Shelly Wilson thanked Ms. Bazard and said the organization is most appreciative of the donation. Hundreds of participants took part in the Sunshine Insurance Race Weekend (SIRW), which took place January 17-18.
PHOTO CAPTION: L-R: Sunshine Insurance VP of Operations, Shelly Wilson, former PLP Senator, Cheryl Bazard and Sunshine Insurance VP of Development, Dwayne Swaby. (Photo/Rogan Smith)