Elite Athletes Return To Marathon Bahamas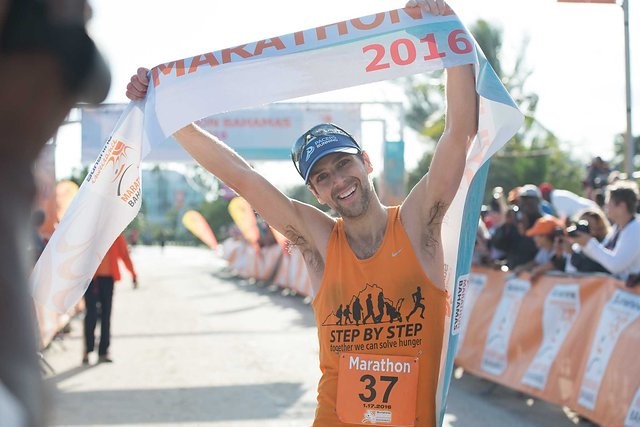 They're back.
Some of the fastest runners in the world are slated to return for the 9th annual Sunshine Insurance Marathon Bahamas (SIMB).
Amos Desjardins, an ultra-marathoner from Alexandria, Virginia who won the 2016 marathon, is returning.
Desjardins is well-known in the running world and has logged more than 12,442 miles in his lifetime.
Five-time half marathon champion, Jonathan Volpi will be returning in January in hopes of retaining his top spot at the award-winning race.
Volpi has been racing competitively since 2002 and is the 2009, 2010 and 2011 Boca Raton Half Marathon champion.
Florencia Morales, a native of Buenos Aires, Argentina, is also looking to retain her half marathon crown.
Morales is an accomplished runner and triathlete, known for competing in ironman events. This will mark her second visit to The Bahamas.
O'Neil Williams, a local athlete who trains in Kenya will also participate in the half marathon.
Several Guinness World Records holders will also touch down in January.
JC Santa Teresa, who holds the record for logging the Most Consecutive Days Running an Ultra Marathon, will be at the start line.
Tuedon Omatsola Morgan, 44, who earned a Guinness World Records title for the Fastest Time to Run a Half Marathon on Each Continent (female), is also slated to run.
Morgan completed seven races in 10 days, 23 hours, 37 minutes and eight seconds.
The mother of four's journey all began because she was determined to lose weight and gain a healthier lifestyle.
Race Weekend takes place on January 13-14, 2018.
Marathon Bahamas is sponsored by Sunshine Insurance, the Ministry of Tourism, Atlantis, Aliv, Focol, Arawak Homes, Cancer Treatment centers of America, Dasani, Cleveland Clinic, Subway, RoyalStar Assurance, REV, NAD, Bahamas Waste, Bahamas Local, PharmaChem, RBC, Scotiabank, Health city (Cayman Islands), BPL, The Movi Group, Vitamalt, Roman Meal, The SignMan, Melia, Global Pacific, Milo Butler Distributors, Bahamas Medical & Surgical Supplies Ltd, the Ministry of Youth, Sports & Culture and Graham Thompson to name a few.
To register for Marathon Bahamas, visit marathonbahamas.com.