Corporate Bahamas Sponsors Sunshine Insurance Race Weekend 2015
Corporate Bahamas is joining in the cancer fight.
Scores of leading businesses have signed on to sponsor the 6th annual Sunshine Insurance Race Weekend (SIRW) – a community effort that brings awareness to the cancer fight and raises money for the cause.
The Susan G. Komen Bahamas Race for the Cure® and Marathon Bahamas events are slated to take place January 17-18.
The Cancer Society of The Bahamas, the Cancer Association of Grand Bahama, the Princess Margaret Hospital Foundation, the Bahamas Breast Cancer Initiative Foundation and Sister Sister Breast Cancer Support Group will split the proceeds from the two-day event.
SIRW sponsors include: Sunshine Insurance, lead sponsor, Atlantis Paradise Island, the Ministry of Tourism, Emera, Focol, BTC, GU, John Bull, Arawak Homes, John Bull, Nassau Airport Development Company (NAD), RoyalStar Assurance, Signman, Subway, BORCO, Burns House, Caribbean Bottling (Dasani), Graham Thompson, PharmaChem, Purity Bakery, Royal Bank of Canada, Scotiabank, Aquapure Water (KLG Investors), Bahamas Hot Mix, Bahamas Waste, Bahamasair, BGC Limited, Cleveland Clinic, Colina Insurance, Deloitte, Doctors Hospital, Gatorade (Thompson Trading), Glass Accessories, Grand Bahama Port Authority, Handling your Health Wellness Rehab, KRYS Global, MAILBOAT Company Ltd, Tropical Shipping, UPS, Cable Bahamas, Island FM, Phat Grooves E-Blast, Star Guardian, Tribune, GBPA, Tech, Executive Coffee and Laura Jane Marketing Consultants Limited.
To register, visit www.marathonbahamas.com, www.komenbahamas.org or call 502-6500.
To become a corporate sponsor, contact Chakita Archer at carcher@marathonbahamas.com.
Sponsors and Captions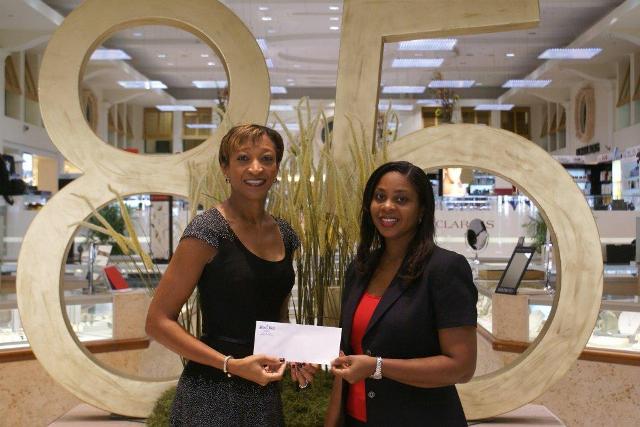 John Bull Director of Business Development, Inga Bowleg poses with Vice President of Sunshine Insurance (Agents & Brokers) Ltd., Shelly Wilson.
Caption credit: Chakita Archer