"Big Guy" Takes On Big Challenge
Cool 96FM DJ To Take Part In Marathon Bahamas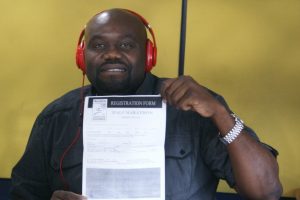 NASSAU, Bahamas – One of the hottest DJs on the coolest radio station is about to hit the pavement for a good cause.
Cool 96FM DJ, Kendrick "Big Guy" Williams will take part in the 6th Annual Sunshine Insurance Race Weekend (SIRW) 2015.
Williams has agreed to run the half marathon on January 18.
SIRW, which debuted in January 2010, seeks to raise awareness as well as money to fight cancer.
Sunshine Insurance Marketing Coordinator, Rogan Smith stopped by Radio House on Wednesday to witness Williams sign his registration form.
Smith applauded Williams and The Tribune Media Group for taking part in and promoting the marathon.
She encouraged other on-air personalities and media houses to follow their lead.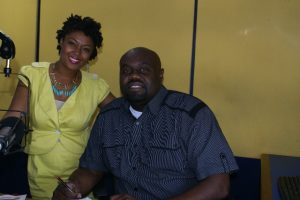 "Williams has such a recognizable voice and a huge fan following. The fact that he is using his platform to reach so many people will bode well for Marathon Bahamas. We couldn't be more pleased and are so very grateful to The Tribune for not only sponsoring the event, but giving us so much exposure," she said.
"The five charities that will benefit from the proceeds are going to be over the moon because the more people know about the marathon, the more will hopefully register and that will put money into those charities' hands. I'm excited to see how Williams transforms over the next few weeks."
Over the next two months, Williams will detail his journey to Marathon Bahamas. Tune in to "Big Guy" Monday to Friday from 2-6 pm to follow his journey.
To register for Marathon Bahamas, visit www.marathonbahamas.com.
Caption: Sunshine Insurance Agents & Brokers Marketing Coordinator, Rogan Smith poses with Cool 96FM DJ, Kendrick "Big Guy" Williams in his studio after he signed his registration form to take part in Marathon Bahamas. He will run the half marathon and detail his journey on his radio show. (Photo: Chakita Archer)