"Barefoot Bandit" Proposes To Girlfriend At Marathon Bahamas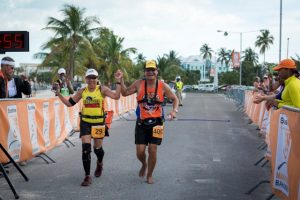 NASSAU, Bahamas (January 19, 2015) – Eddie Vega might not have won Marathon Bahamas, but he certainly won the heart of his longtime girlfriend when the couple crossed the finish line on Sunday.
With hundreds of onlookers standing by on Arawak Cay, a barefoot Vega dropped to one knee and popped the question to Nilda Birch.
With her hand cupped over her mouth, a shocked Birch took a moment to respond.
When prompted by the crowd to give her answer she replied, "It's about damned time."
Birch and Vega have been together for more than a decade.
Vega coordinated the proposal with organizers of Marathon Bahamas, who had the DJ play "Here Comes The Bride" after Birch said yes.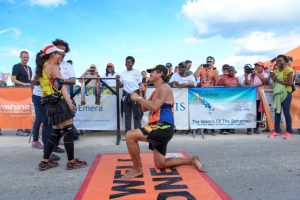 Vega, who was born in the Philippines, moved to Guam at six and has lived in Raleigh, North Carolina made local headlines when it was announced that he would run Marathon Bahamas barefoot.
Now, he's making headlines for his impending nuptials.
"After being together for 13 years, I finally decided to propose to Nilda and I wanted to do it in a very special place and during a marathon event," said 55-year-old Vega.
"Marathon Bahamas turned out to be that most perfect place to give up my bachelor status of 17 years and get hitched for the third time."
Sunshine Insurance Marketing Coordinator, Rogan Smith congratulated the couple and said she hopes they return to The Bahamas to tie the knot.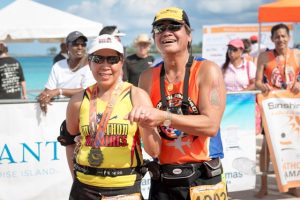 "Most of time when people are watching the finish line, it's to see which runner crosses first. But, for the first time, people were waiting around to see who would get proposed to. Earlier during a TV broadcast our chairman, Franklyn Wilson let it slip that someone was going to pop the question, but no one knew who it would be. Most people were excited to see a barefoot Eddie coming down the final stretch barefoot. But, when he dropped to one knee, it got explosive," said Smith.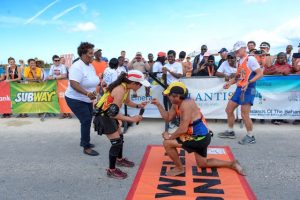 "We're just so very happy that he chose our event to propose to Nilda. They're such a beautiful couple and we hope that they come back to The Bahamas and get married. We at Marathon Bahamas would love to be a part of the celebration."
After the engagement, the happy couple walked over to the beach and buried their feet in the sand.
Caption #1" Nilda Birch and Eddie Vega in the final stretch. (Photo/Anthony Richardson for Marathon Bahamas)
Caption #2: A new beginning at the finish line. Eddie "Barefoot Bandito" Vega proposed to his longtime girlfriend, Nilda Birch at the Marathon Bahamas finish line on Sunday. (Photo/Anthony Richardson for Marathon Bahamas)
Caption #3: The newly-engaged couple shows off the engagement ring. (Photo/Anthony Richardson for Marathon Bahamas)
Caption #4: Vega slips the ring on Birch's finger. (Photo/Anthony Richardson for Marathon Bahamas)