Bahamas Local Signs On As Platinum Sponsor For Marathon Bahamas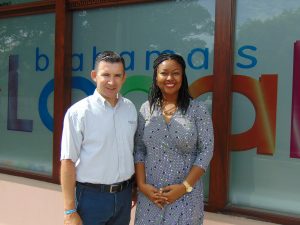 Marathon Bahamas ads will be featured 300 million times per month thanks to a new partnership with the country's largest and most used website . . . and that's just the beginning.
BahamasLocal.com has partnered with Sunshine Insurance to promote the Sunshine Insurance Race Weekend (SIRW) – a two day event that includes the Susan G. Komen Bahamas Race for the Cure® and Marathon Bahamas.
The weekend of events is slated to take place January 16-17, 2016.
Each year, thousands of international runners from all four corners of the globe descend on The Bahamas for the event, which is now a staple on the sports tourism calendar.
"We are thrilled that BahamasLocal.com has signed on, not only as a platinum sponsor, but as a media partner for the Sunshine Insurance Race Weekend. Marathon Bahamas is one of the biggest and most anticipated sporting events in the country and we know that participants both locally and abroad are always in search of information about the event. So, it makes sense that we would partner with a company with such a dominant online presence," said Sunshine Insurance Marketing Coordinator, Rogan Smith.
"So many people, myself included, turn to BahamasLocal.com for news and events on a daily basis. It's a terrific resource. We look forward to getting details of our event to the masses and are confident that BahamasLocal.com will help us do just that."
Jason McDowall, founder of BahamasLocal.com noted that his company "has always been a supporter of Marathon Bahamas since its inception."
"We feel that we have a lot to offer Marathon Bahamas in helping with its PR, media and other activities," McDowall said.
"We take pride in helping charities and events. We feel the partnership will have great mutual benefits."
McDowall founded BahamasLocal.com in 2006.
In 2008, businessmen Dionisio and Dayne D'Aguilar became major partners and launched the company in 2009.
Since then, it has grown month-by-month to become "the largest and most comprehensive" online information resource in and for the Bahamian market.
"At present, we have over 15,000 businesses listed, and are the sole online partner of companies such as Atlantis, CBS, Galleria Cinemas, and Cable Bahamas," said McDowall.
"With an average of 15,000 unique visitors daily, promotional messages (banners) on our site are shown a total of 300 million times per month."
Meantime, registration for Marathon Bahamas is now open.
To register, visit www.marathonbahamas.com.
To view news and events on the marathon, visit www.bahamaslocal.com.
###
Caption L-R: BahamasLocal.com founder, Jason McDowall poses with Sunshine Insurance Marketing Coordinator and Marathon Bahamas PR Chair, Rogan Smith (Photo/Monalisa Barr).