THE PINK RUN 5K – REGISTRATION IS OPEN!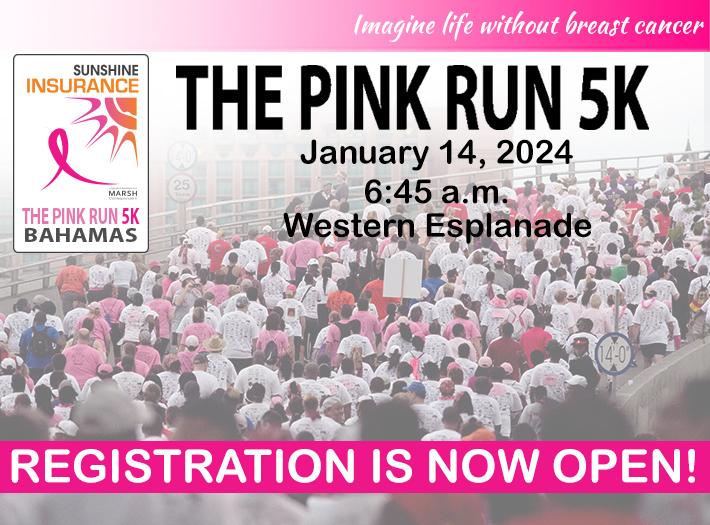 Sunshine Insurance, in its role as the lead sponsor and organizer for Marathon Bahamas, is excited to announce THE PINK RUN 5K (3.1 miles) on Sunday, January 14, 2024!
THE PINK RUN 5K is suited for runners and walkers, appealing to all level of fitness and is family-oriented.
THE PINK RUN 5k raises significant funds for the beneficiaries, brings attention and awareness to breast cancer that affects so many of our Bahamian women, celebrates breast cancer survivorship and honors those who have lost their battle with the disease.
100 percent of the net funds, raised by THE PINK RUN 5K, remain in The Bahamas to fund breast cancer education, research and services, and other women's health programs.
New for 2024 – the course!
The event will start at 6:45 am at Western Esplanade heading east with a loop in the Christie Street area back to the finish line. New course benefits: Start/finish at the same location; parking at Fort Charlotte; flat course, view of marathoners returning from their eastern trek.
The event will continue to feature the prized team awards: largest team, most energetic team, and most creative team. So, start thinking about your team! Engage your family, friends, colleagues and come out to support this most worthy event.
Beneficiaries are: Cancer Society of The Bahamas, Sister Sister Breast Cancer Support Group, Princess Margaret Hospital Foundation and Cancer Society of Grand Bahama. More than $440,000 has been distributed to date.
For additional information click here.
See you at the starting line!