Tasting the Bahamas One Meal at a Time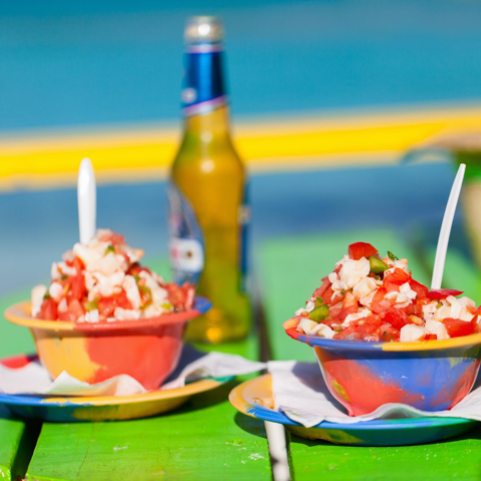 When you visit The Bahamas you must try some of their famous dishes. There are so many after all and everything is fresh! Anyone that has even been to The Bahamas has heard of CONCH. Many people know this word as the big beautiful shells that wash in from the ocean (and also our age category awards), other people recognize conch as a delicacy of The Bahamas.
"Conch (pronounced "konk") is the national food of The Bahamas and a true Bahamian specialty. Similar to calamari, conch meat is firm and white with a somewhat chewy texture. It can be eaten steamed or deep-fried, or served raw with citrus juices and fresh vegetables."
Conch is prepared a variety of ways. Conch salad, conch fritters and so much more. Visit the ever popular Fish Fry when you come in January for Marathon Bahamas. You can't miss it, just steps away from the finish line. You will have lots of vendors to choose from to see what style of conch you like best.
The best way to wash down that perfect conch meal? With a Kalik of course. "Kalik, The Beer of the Bahamas is a beer brand franchise comprised of Kalik, Kalik Light, Kalik Gold, Kalik Lime. Kalik, like Junkanoo, has become intrinsically bound to Bahamian culture. It is indeed "The Beer of The Bahamas."
Finish that meal off with a delicious Rum Cake and 1,2,3, you've done a  Bahamian Meal. The Bahamas Rum Cake Factory is located right on Bay Street in Nassau that has a wide variety of this sweet treat. "Each rum cake is hand glazed with special 5-year-old, oak barrel aged Tortuga Gold Rum then vacuum sealed to lock in the delicious freshness. The cakes have a shelf life of 12 months, or indefinitely if refrigerated or frozen."
No matter what you try, we are sure you will enjoy!