Quick Protein Balls for Runners (great just as a snack too!)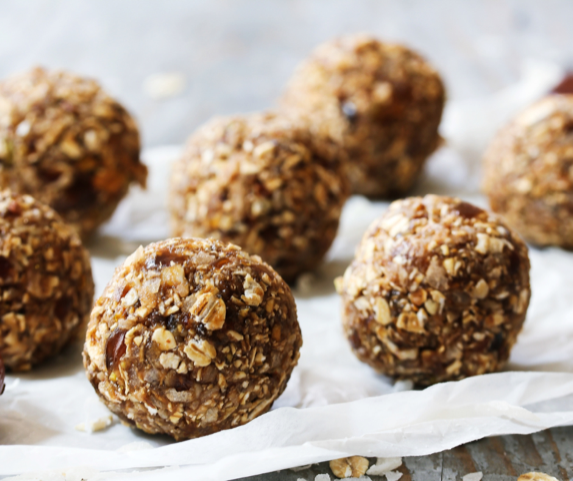 Quick Protein Balls for Runners (great just as a snack too!)
Protein balls are a great snack option for runners as they provide a good balance of carbohydrates and protein to fuel your workouts and aid in recovery. Here's a quick and easy recipe for protein balls:
Ingredients:
1 cup rolled oats
1/2 cup peanut butter (or any nut butter of your choice)
1/3 cup honey or maple syrup
1/4 cup protein powder (vanilla or chocolate flavor)
1/4 cup chopped nuts (e.g., almonds, walnuts)
1/4 cup dried fruits (e.g., raisins, cranberries)
1 tablespoon chia seeds (optional)
1 teaspoon vanilla extract
Pinch of salt
Instructions:
In a mixing bowl, combine the rolled oats, peanut butter, honey (or maple syrup), protein powder, chopped nuts, dried fruits, chia seeds, vanilla extract, and salt. Stir until well combined.
If the mixture seems too dry, you can add a little more honey or peanut butter to help bind the ingredients together. If it's too wet, add more oats or protein powder to achieve a firm consistency.
Once the mixture is well combined, refrigerate it for about 15-30 minutes. Chilling will make it easier to roll the mixture into balls.
After chilling, take small portions of the mixture and roll them into bite-sized balls using your hands. If desired, you can also roll the balls in shredded coconut, cocoa powder, or crushed nuts for extra flavor and texture.
Place the protein balls on a baking sheet or plate and refrigerate them for at least an hour to firm up. Once firm, you can transfer them to an airtight container and store in the refrigerator for up to a week.
These protein balls are not only convenient for runners to grab and go, but they also make a great pre- or post-workout snack. Enjoy!