THE PINK RUN 5k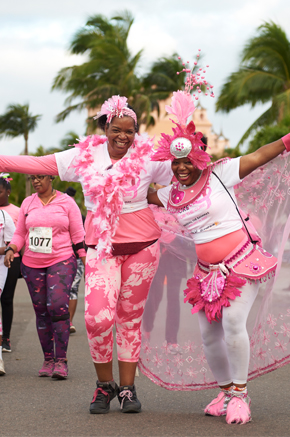 Sunshine Insurance, in its role as the lead sponsor and organizer for Marathon Bahamas, is committed to foster strategic relationships with organizations for the advancement of breast cancer awareness, research and treatment. Relationships that could significantly impact the health of Bahamians, especially in the areas of breast cancer and other women's health issues.
In January 2011, the first 5k was held and today, the 5k remains an important event on many people's calendars – locally and internationally.
THE PINK RUN 5k Bahamas is an event not only to raise money for the beneficiaries but also to bring attention to the dreaded disease, of breast cancer, that affect so many of our Bahamian women. 100 percent of the money raised by THE PINK RUN 5k, Bahamas will remain in The Bahamas to fund breast cancer and women's health programs.
THE PINK RUN 5k is suited for runners and walkers, is family oriented and raises significant funds and awareness for the breast cancer movement, celebrates breast cancer survivorship and honors those who have lost their battle with the disease.
Beneficiaries for the event are: The Cancer Society of The Bahamas, The Princess Margaret Hospital Foundation, Sister Sister Breast Cancer Support Group and the Cancer Society of The Bahamas Grand Bahama Chapter.
RUN FOR YOUR LIFE
The cure for breast cancer begins with you. Together, we can save lives. When it comes to the disease, you never know when and how you will be affected, which is why it's so important to unite as a community to honor our survivors, raise awareness and raise money.
Participate in the 10th annual Komen Bahamas Race for the Cure® to show everyone whose life you are running for. It is a wonderful way to honor your mother, father, sister, wife, husband, child, coworker or friend. You may even be running for your own life.
Every step counts.
DATE:
Sunday, January 14
TIME:
7:00 a.m.
DISTANCE:
5km (3.1 miles)
START LOCATION:
Western Esplanade
FINISH LOCATION:
Western Esplanade
PACKET PICK-UP:
All participants will collect their packets at the expo.
Saturday, January 13
Location: TBA
Time: 3:00 – 7:00pm
TIMING
THE PINK RUN 5k will use the ChronoTrack timing system to accurately time the races and quickly provide day-of-race results provided by.
No other timing system device may be worn. YOU MUST WEAR YOUR ASSIGNED BIB NUMBER DURING THE RACE TO RECEIVE YOUR FINISHING TIME AND FOR VISUAL PERSONAL I.D. WHILE ON THE COURSE. All participants will receive their gun time.
Finishing results will be posted on a continuous basis, at race village.
Full results will also be posted after the event.